Start the database service
In Kali Linux Terminal:
# start the database server
service postgresql start
# if this is the first time you are running metasploit, run the following:
msfdb init
# start metasploit using msfconsole
msfconsole

or using the kali linux menu system:
Exploitation tools > Metasploit
You will meet with the following prompt in your terminal: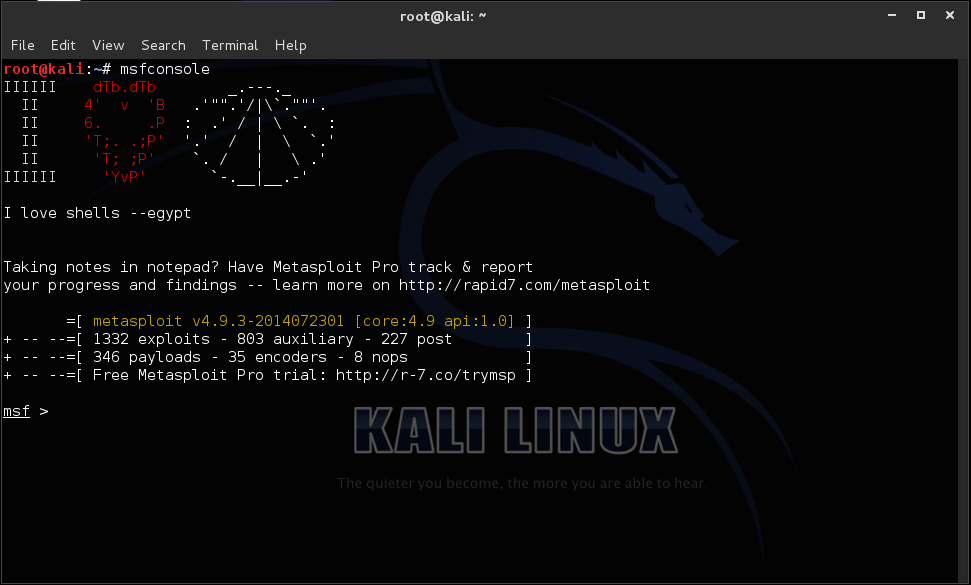 This is msfconsole. Msfconsole is the main command line interface to MetaSploit. There are other interfaces available – GUI interfaces (armitage), and a web interface too (websploit). With msfconsole you can launch exploits, create listeners, configure payloads etc.
If you get the error 'Database not connected or cache not built' use 'db_status' to see if the metasploit database connected. if not, start the postgresql database (instructions above) and re-start msfconsole. If 'db_status' reports 'connected' then run the 'db_rebuild_cache' command to rebuild your metasploit database cache.
#rebuild the database caches
db_rebuild_cache