Songgenie is an application by equinux that finds metadata for your music collection. Songgenie can find song names, album names, genre, track number, lyrics and can help fix missing or incorrect itunes song data.
1) Download and install
You can download the app from the equinux website, there is a demo available so you can try it out too.
Songgenie is also available from the app store
Install process.
The installer from the website is a .pkg file. simple to setup, you just doubleclick on the downloaded .dmg file and run the installer.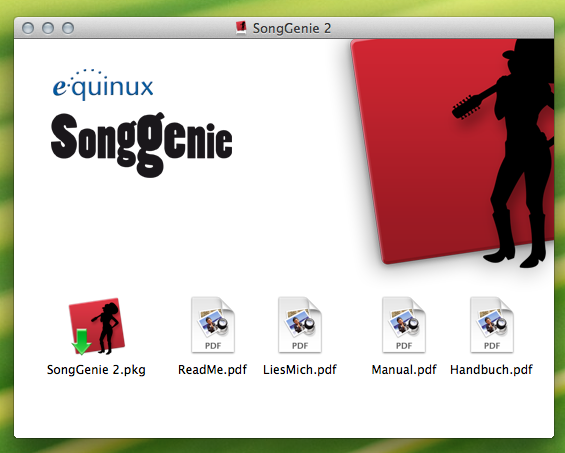 First run:
On first run you are presented with a splash screen with some of songgenie's features: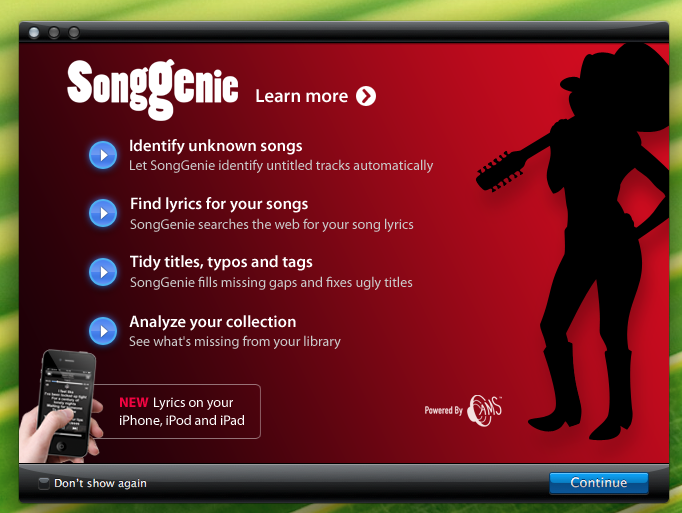 First run:
On first run you are presented with a splash screen with some of the programs features:
Identify unknown songs
Songgenie will identify all of your multiple Track1.mp3's :D
Find lyrics for your songs
Songgenie will search the web and embed lyrics into all your mp3 files!
Tidy typos, titles and tags
Songgenie will fix all of your track names
Analyse your collection
Songgenie will tell you what tracks you are missing from albums!
2) Preferences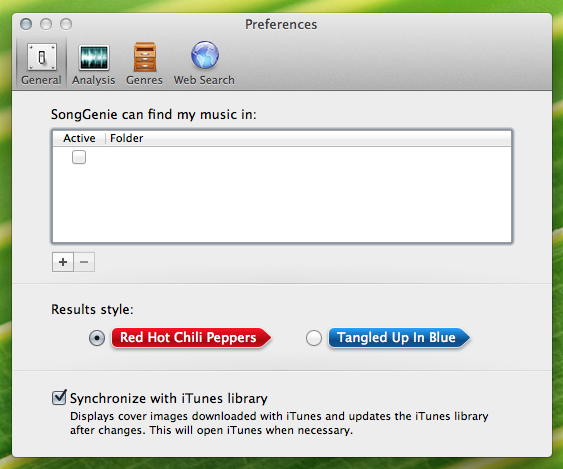 General tab:
music library location
lets you select the location of your music files
lets you sync with itunes library
Analysis tab
lets you pick the parameters to find, eg name, album, etc
Genres tab
lets you define and pick genres
Web search tab
lets you add and edit locations for finding lyrics
3) Using songgenie
using songgenie is easy.
first add the location of your library and let songgenie scan all your files.
Getting data for a single song
once songgenie has found your music its simple to find data for any of your tracks, simply click on the track and then click 'identify'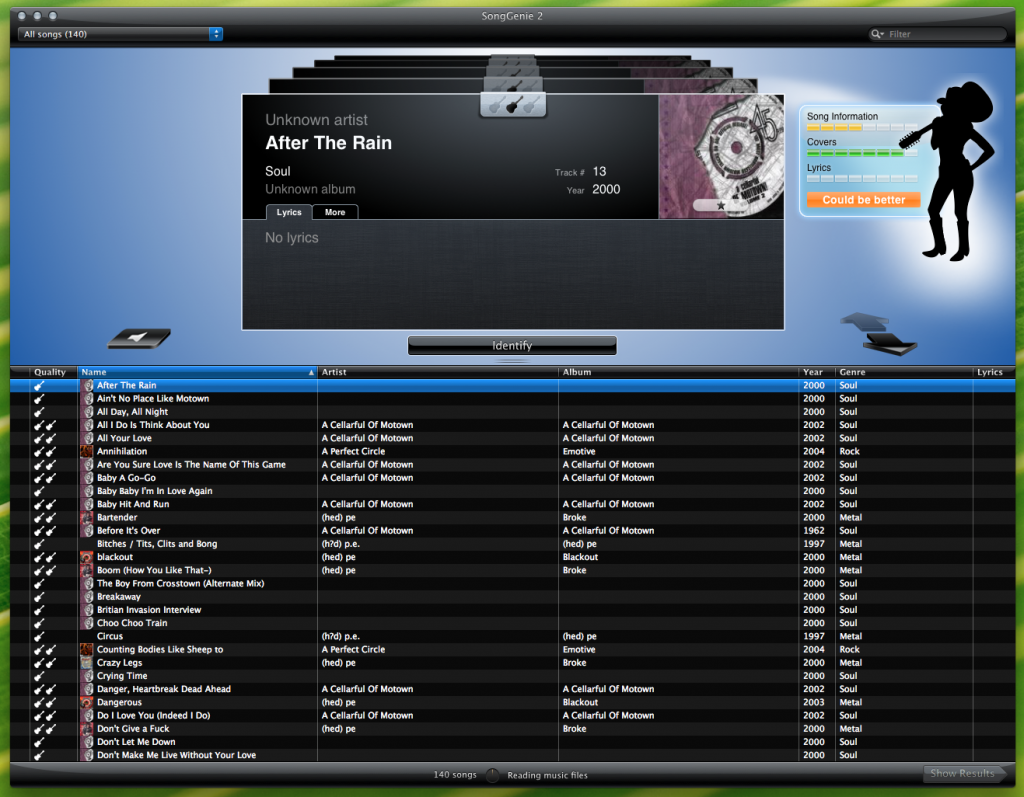 Songgenie will then find all the information it can about that track and will allow you to assign all the data it found, or select the data you wish to add this is the part that lets you fix missing or incorrect itunes song data.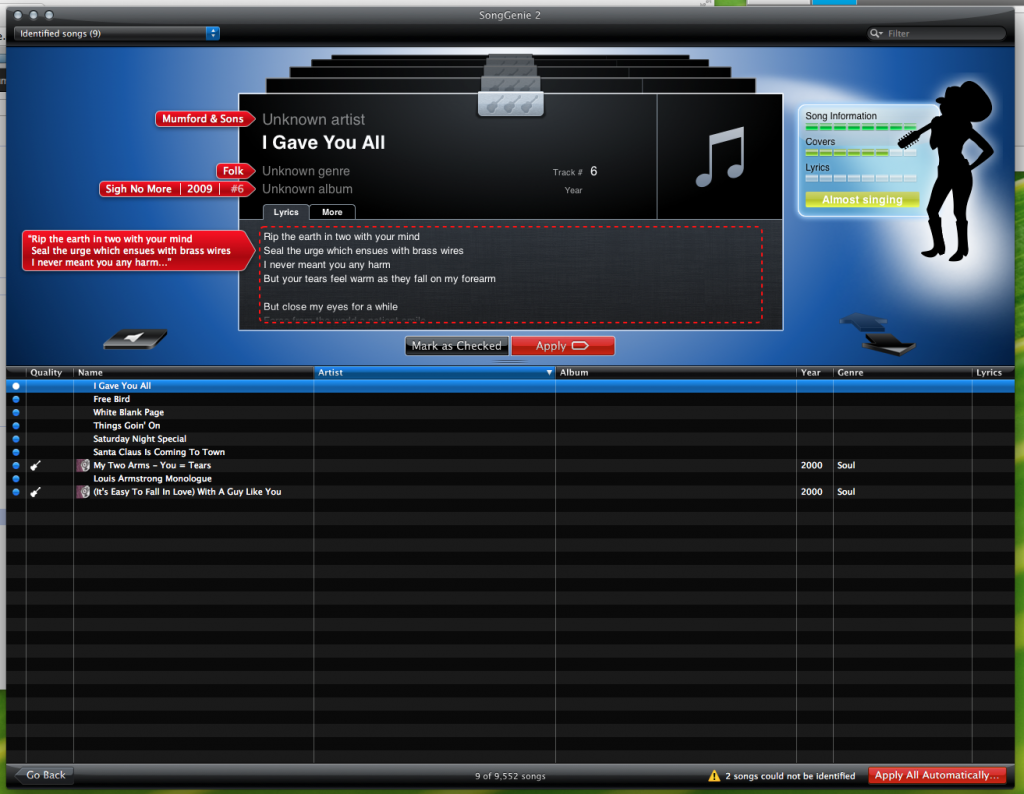 Getting data for an entire album / multiple tracks
Getting data for an entire album follows the same process as getting data for a single song, just select all the tracks that you want to find the data for and click 'identify'
There are various sorting options available to help you find all the tracks with missing information which helps a great deal when you have a large library
There is also an option for 'find and apply automatically' where songgenie will scan the selected files and will apply the results automatically for you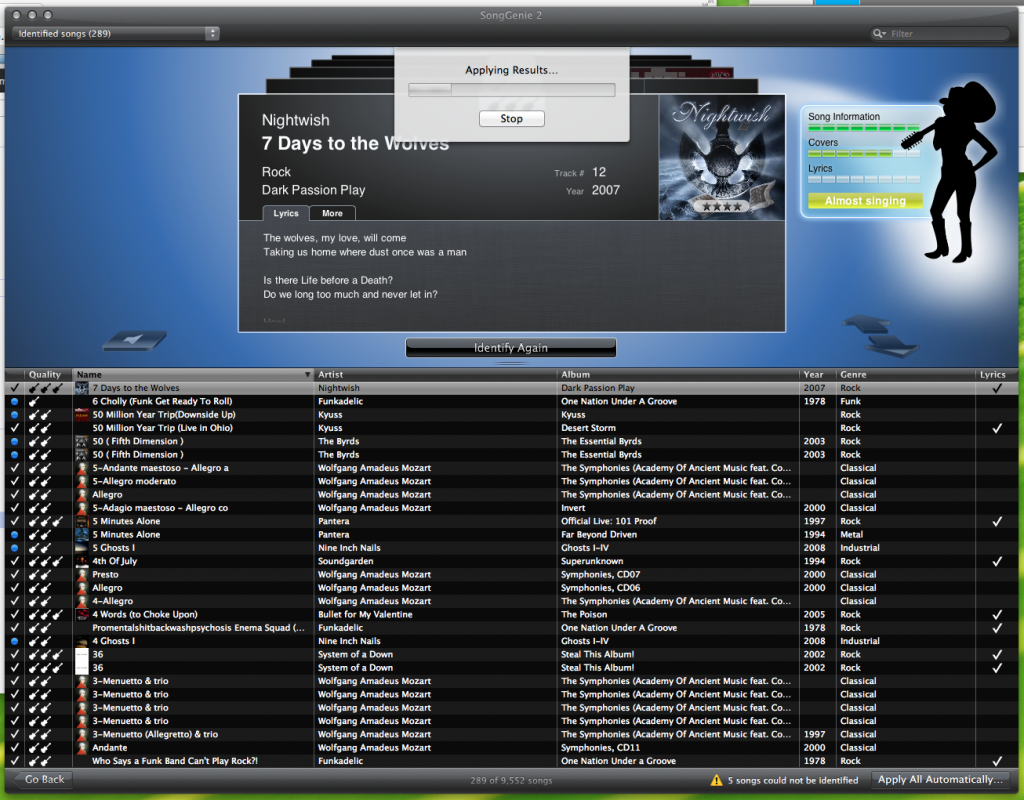 4) Overal experience
Overall the app performs brilliantly. it found all the missing info for songs that I threw at it. It also got lyrics for most of them too. It does take a play in itunes to get itunes to update the information, but this isnt a problem with the app, its a problem with itunes not being able to do a refresh of metadata without playing the file.
I now have the correct names for my music, which is great when it syncs to my ipad or I play it on my apple tv.
If you have a large music collection and want to make sure you have all the correct song names and album names and want to fix missing or incorrect itunes song data then songgenie is the app for you.
you can download the songgenie from the equinux website, there is a demo available so you can try it out too.
songgenie is also available from the app store