This post is a comparison of the various email clients available on mac osx (and some mac osx email clients and sparrow alternatives if you are looking for them – Ive included sparrow in the list aswell so that others might learn its awesomeness)
1) mail.app
features:
imap, pop, exchange, gmail, hotmail, yahoo mail
price: included in osx for free
major bonus: all emails are included in your spotlight searches
pros: integrated into osx, free
cons: not the fastest, feels a bit clunky sometimes
2) sparrow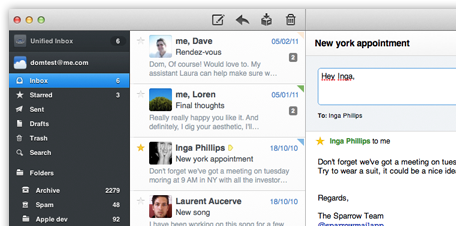 get it here: http://www.sparrowmailapp.com/mac.php
features:
gmail, imap, pop
price:£9.99 (with a free version thats ad supported)
sparrow has some cool features, like facebook integration to show nice pictures of your contacts in your inbox, but osx has this built in too, so the same things are available from mail.app
sparrow have been bought by google, and development of their app has stopped. its a pitty, because sparrow was full of promise. we might see a real gmail app on osx though…
pros: fast, slick interface, free version available
cons: its not under development any more
3) thunderbird
get it here: http://www.mozilla.org/en-US/thunderbird/
features:
imap, pop
price: free
major bonus: plugins of all sorts are available to customise your thunderbird
pros: its free, there are lots of plugins to add functionality
cons: its slow. very slow.
4) outlook
features:
imap, pop, exchange
price: free with an expensive copy of microsoft office
pros: used by office workers everywhere.
cons: it feels very outdated when compared to things like sparrow and airmail
conclusion:
there isnt really any one mail client thats better than the others, they all do email.
At work, I use thunderbird (with the excellent thunderbird conversations plugin)
I think if you NEED exchange, then you are stuck with mail.app or outlook, but even exchange servers support IMAP, so if you are nice to the administrator (or if you ARE the administrator) then its probably best to try them all out.
also, if you NEED your emails to be searchable from spotlight, then mail.app is the one to use.
for now I'm sticking with mail.app
update: new email client! airmail is a fantastic sparrow alternative
5) airmail [beta]
airmail is still a beta right now, but it looks to take off where sparrow stopped, so far the features and interface are great!
pros: fast,sleek interface, easy to add accounts
cons: its still a beta, so things might break