One of the best features of osx is the built in dictionary and thesaurus.
you can open the dictionary (applications > utilities > dictionary) and lookup the definition of any word using the built in dictionary, or even the builtin wikipedia browser!
there is, however, a cool way to lookup the definition of a word without opening the dictionary.
this will show you how to do a quick lookup of any word in the built in osx dictionary
hover over any word
double click it with three fingers
you will get a popup in the dictionary for that word :)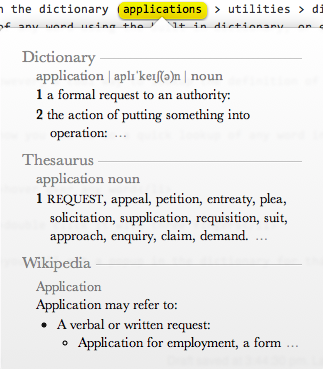 the image above shows the inline dictionary for the word 'application' which also shows the thesaurus and a wikipedia entry. Its a great way to check up on word definitions, etc while you are in the middle of writing, without having to open the dictionary app. It works in all apple apps, and it does work in a number of third party apps.